shopping_basket
Basket
(0)
local_shipping Free Delivery Available on Bulk Orders
check_circle High Quality Products at Low Prices
credit_card All Major Credit Cards Accepted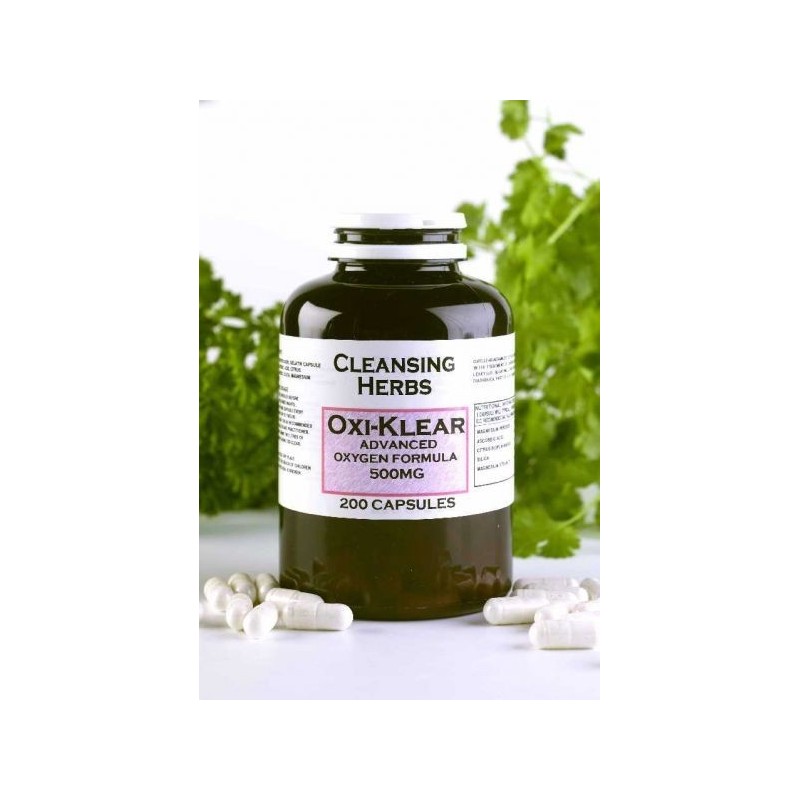  
Oxi-Klear 500mg 200 caps
Product Information
Oxi-Klear is a preparation formulated to infuse the body with oxygen.  It works by activating with stomach acids and then filtering into the bloodstream, causing the breakdown and softening of intestinal plaque and arterial plaque whilst killing pathogens.  Oxi-Klear helps to detoxify the body through colon cleansing, preventing the re-absorption of toxins back into the bloodstream known as auto-intoxification which cause the eliminative organs to work harder.  It is used to help to detoxify the body cleansing the digestive tract, arteries, blood and internal organs including the brain.
Colon Cleanse - Cleaning the colon is an essential part of promoting optimum health.  It is claimed that between 5-25lbs of impacted faeces can be deposited in the colon.  This becomes the breeding ground for harmful bacteria, viruses, fungi, yeast, parasites and worms along with Candida albicans, which feed off the bad bacteria. Oxi-Klear balances the body flora by helping to establish a healthy environment for the good bacteria to flourish due to eliminating the bad bacteria.  An unhealthy colon is linked to digestive problems such as constipation, IBS, abdominal bloating and excessive gas, headaches, migraines, skin problems, impaired immune response and Candida albicans.
Candida Albicans - Candida albicans is a yeast infection that is present in everyone. In the majority of individuals, it doesn't cause a problem as it is kept under control by micro-organisms referred to a friendly bacterium.  The yeast changes into a harmful fungal form, which, will flourish in the bowel and occasionally in the mouth and vagina.  As it multiplies throughout the body it can cause an extensive range of symptoms.  Symptoms can include a host of digestive problems including heartburn, acid reflux, indigestion, constipation, diarrhoea, excessive gas, abdominal pain, skin rashes including acne and eczema, psoriasis, dandruff, ear and throat infections, asthma, muscle and joint pain, fungal infections, itching, headaches, migraines, palpitations, weight problems, food cravings, food intolerance's, menstrual problems, vaginal thrust, PMT, cystitis, endometriosis and feeling intoxicated after a minimal amount of alcohol.  Other symptoms can include depression, mood swings, irritability, short-term memory loss, tiredness and chronic fatigue after eating, dizziness, anxiety, agitation, numbness and tingling sensation.  Oxi-Klear can be instrumental in controlling Candida albicans and promoting wellbeing.
What can you expect from taking Oxi-Klear?
Some of the benefits associated with taking Oxi-Klear are increased energy levels, assistance in eliminating harmful toxins from the body, including heavy metals and parasites.  Diminished stress levels along with a feeling of wellbeing.  Chronic constipation can be eased.  It can help to provide an aerobic environment in both the small intestine and the colon which can help the good bacteria to flourish whilst diminishing the bad bacteria.  It also helps to regulate the digestive system.
Healing Crisis - Whilst taking Oxi-Klear some individuals may experience what is termed the 'Healing Crisis' as a result of toxins being released from the colon.  This may include headaches, skin eruptions or rashes, feeling lethargic, cold-like symptoms, dry throat, aching muscles and shivering.  These symptoms are only temporary and should diminish with 48 hours.  Ensure that fluid intake is increased to 2 litres or 8 glasses of filtered water.
Directions: 
Take 2 capsules on an empty stomach, 1-4 times daily.  Followed with a glass of grapefruit, orange or freshly squeezed lemon juice in water or just water.
Storage: Store in a cool, dry place away from direct sunlight and heat
Warning:
450mg of magnesium may cause mild stomach upset in sensitive individuals.
Do not take magnesium if you have kidney disease
Not suitable for use during planned pregnancy, pregnancy or breast feeding

Not suitable for children

Do not purchase or consume if the seal is broken

Keep out of reach of children

Food supplements should not be used as a substitute for a varied and balanced diet and healthy lifestyle
Ingredients: Magnesium Sulphate, Magnesium Citrate, Magnesium Hydroxide, Magnesium Oxide, Vegetarian capsule, Sugar Beet Fibre, Ascorbic Acid, Fructo-oligosaccharides, Citric Acid, Magnesium Stearate (veg. source), Citrus Bioflavonoids, Apple Cider Vinegar Powder
Allergens: This product is hypoallergenic / does not contain any of the 14 major allergens listed in Annex II (1169/2011) of the EU Food Information for Consumers Regulation.
This product is suitable for vegetarians and vegans.