shopping_basket
Basket
(0)
local_shipping Free Delivery Available on Bulk Orders
check_circle High Quality Products at Low Prices
credit_card All Major Credit Cards Accepted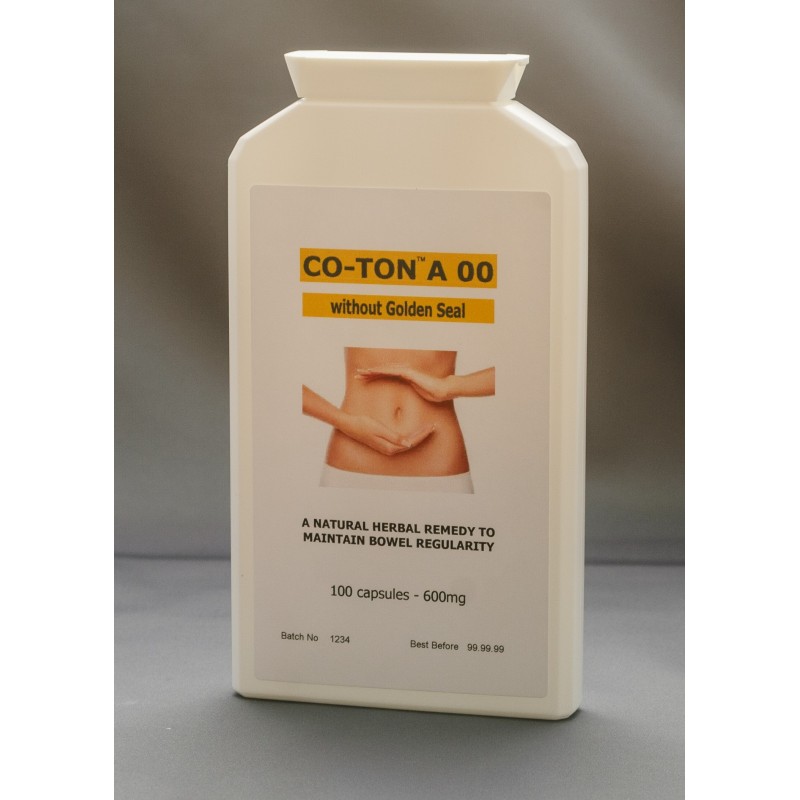  
Co-ton A00 600mg 100caps
Product Information
In most cases, improper diet has caused the peristaltic muscles of most people to stop working effectively and it will take six to nine months with the aid of the Co-ton for the average individual to clean out the faecal matter and to rebuild the bowel structure sufficiently to have the peristaltic muscles work entirely on their own.
Most people have pounds of old dried faecal matter that is stored in the colon which is toxifying the system and keeping the food from being assimilated.
Over ninety percent of all diseases and malfunctions of adult's stem from the unclean intestinal tract, constipation (Latin constipation meaning crowding together), with infrequent or difficult evacuation of the faeces, retention of the faeces, and lack of coordination in the nerve and muscle functions of the colon and bowel.
Co-ton is a corrective food for the intestinal tract. In bowel movements no two people are alike, and often a person will taper down on Co-ton over a period of time to one capsule three times daily, then to a single capsule a day--then all of a sudden, the herb is getting to the outside walls of the intestines and breaking loose some of this hard faecal matter, and it goes down the intestines and begins to clog you up.
The late Dr John Christopher, an eminent American Herbalist, developed a herbal formula which helps to improve elimination and tone the bowel muscle without a strong laxative effect (laxatives are only recommended in extreme cases, since prolonged use tends to weaken the bowel muscle).  This can be taken orally in quantity for quite long periods of time without danger – it is the patient's condition and response which governs these factors.  In fact, Dr Christopher recommended that the herbs should be continued for 6 months after normal bowel movements are attained to ensure proper muscle tone.
Directions:
Start by taking 2 capsules three time daily with meals; if the stool seems too loose then reduce the dosage; if it is still difficult to get a bowl movement, or the stool too hard or undue straining is required, then increase accordingly until the movements become soft and well-formed. Ensure plenty of fluid is taken.  For IBS, take 1-4 capsules with breakfast and lunch. Do not take if pregnant or breastfeeding.
Storage: Store in a cool, dry place away from direct sunlight and heat
Warning
Not suitable for use during planned pregnancy, pregnancy or breast feeding
Not suitable for children
Do not purchase or consume if the seal is broken
Keep out of reach of children
Food supplements should not be used as a substitute for a varied and balanced diet and healthy lifestyle
Ingredients:Cascara segrada bark (Rhamnus purshiana); Barberry bark (Berberis vulgaris); Cayenne (Capsicum minimum); Fennel Seed (Foeniculum vulgare); Ginger Root (Zinziber offcinalis); Lobelia (Lobelia inflata); Raspberry Leaf (Rubus idaeus); Turkey Rhubarb Root (Rheum palmatum)
Allergens: This product is hypoallergenic / does not contain any of the 14 major allergens listed in Annexe II (1169/2011) of the EU Food Information for Consumers Regulation.
Suitable for vegetarians and vegans